January 17th we welcomed "The Rhapsody Litter".  Five beautiful bouncing boys and two pretty princesses.  These were pretty big babies for Zoey although I don't know why I was so surprised because Cooper is a big boy.  At first Zoey wasn't too sure what to do with them, those squirmy little things, lol.  Her mothering instincts kicked in fast and hard.  Now we can barely get her to go potty or eat.  If she's not in with them, licking and sniffing them she's sitting right outside of the whelping box following their every move.
It is such an honor to have a wonderful family with such amazing fur kids.  All of our girls and boys are not only beautiful and smart and very healthy but above all the temperaments are beyond reproach.   They all love people and other four legged creatures, with the exception of moles.  We have acquired a couple of pesky moles and they were very proud and brought one in the other day and scared the wadding out of me.
Now I am going to try to figure out how to put a couple of photos in here.  Wish me luck.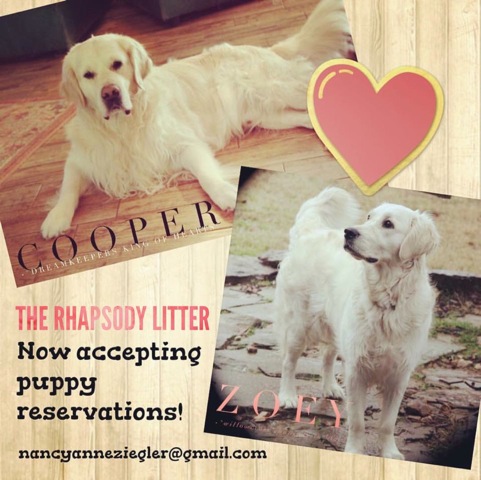 We still have a couple of reservations available for these precious babies.  If interested please contact Nancy at (479)927-1612 or nancyanneziegler@gmail.com.
Have a fantastic new  year.
Nancy and Bob