"Toby the Tenacious" – STARS and STRIPES of COUNCIL HOUSE
SR93787202 DOB: 7/4/16 (Michael and Eleshia)
"TOBY" is everything that is wonderful in a Golden. I guess a good moniker for him could be "Toby the tenacious". He is loving, smart as a whip, very athletic and just an all around wonderful boy. He is beautiful and would love nothing more than to sit "ON" you all day, whenever he isn't exploring or running. He is a very healthy and wonderful addition to our Willowcross Family.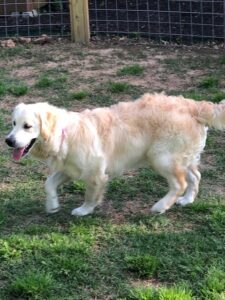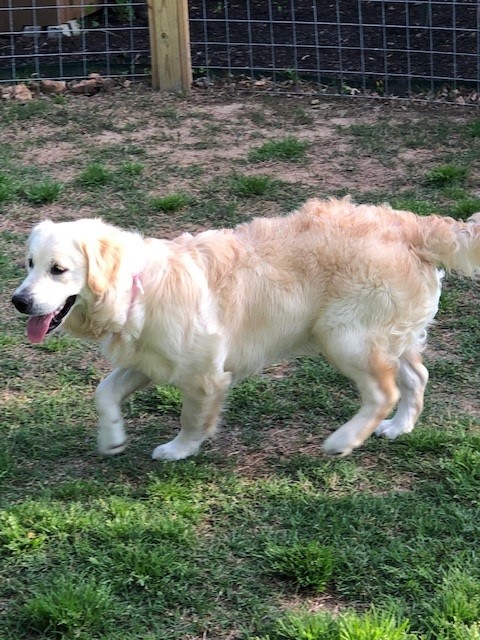 "Incredible Ivy" – WILLOWCROSS MORNING STAR ENGLISH IVY
SS21103503 DOB: 9-12-2020
IVY is one of our homegrown babies. Her mama is Willow and her daddy is Milo. She is very much a typical girl. She is so loving but does have her own opinion. She looks at me when I talk to her with the expression "what are you talking about". She is a mama's girl but when she is pregnant, she really craves more touching and loving. If she could be attached to me she would be. She is our own "Incredible Ivy".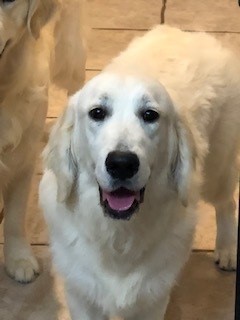 Steele  (WILLOWCROSS KING OF HEARTS)  
 AKC #SS31288803   DOB:  12/20/2021  
Steele is very precious to me because his father was my cooper.  Steele is named after cooper's father.  Every day I can see more and more how much Steele is like his daddy.  Cooper had an accident during an ice storm and fell down the stairs from the deck to the yard.  He fractured something in his back which we were told was unfixable.  Steele was set to go to another home and when this happened I had to contact the other family because I couldn't lose cooper and Steele.  I love all of my fur kids deeply.  Each has their own distinct and individual personality.  Since Korie is his mama and cooper his daddy I can see some of both in him.  However if I close my eyes and put my hands on him, they feel exactly the same.  What would we do without them.  "spectacular, soft hearted, sensational steele"
Korie (KORIE SANITACTEAM DAY)
AKC #SS26913601 DNA PROFILE # V971686  DOB: 12/15/2019
Kind, Kissable, Kuddly (I Know C), Korageous (Again C)
Korie comes to us from our very good friend in Hungary, beata' grasselli who has Babelsbergi kennels. Beata' and i have been friends for over ten years, Babelsbergi means "to love forever". She breeds the most wonderful fur kids. Many of which are therapy dogs in Hungary, goldens by design are the most perfect family dogs. They live to please you and you have to be very careful to not speak harshly to them because it hurts their spirit. Many if not nearly all of my original fur kids have come from some (only two) wonderful breeders in Hungary, her beauty is not only on the outside but also on the inside. I just love my fur babies.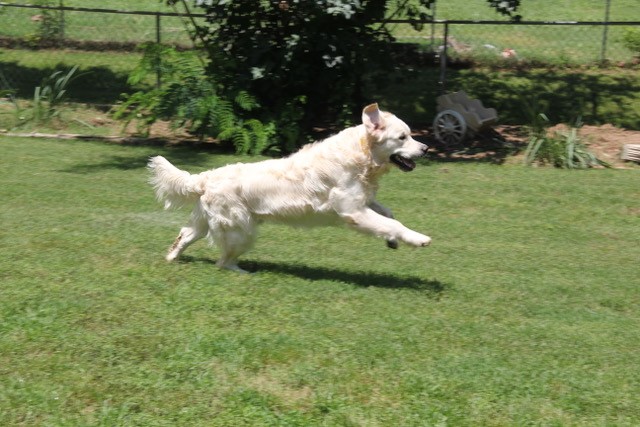 Beckah   "WILLOWCROSS REBEKAH"  
SS25839604    DOB:  4-23-2021
Beautiful Beckah.  By looking at these pictures can you guess what Beckah loves to do?   Exactly, run, fetch, play ball and frisbee and most of all cuddle.   I am excited to see how she will be as a mama.  Since she looks so much like her grandma Szava, I will be she will be spectacular.  Beckah has a story.  About four or five years ago I had a wonderful family approach me and want two puppies from different litters.  I think this maybe was the second and last time I ever did this.  I had Szava and Lewis having babies along with Lily and Augie due within a few days of one another,  they got a girl from Lily and Augie and a boy from Szava and Lewis.  There was nothing not safe about that because no bloodlines were crossed.  About 2 1/2 years ago they told me that the two babies they got with me were going to have babies.  All of my beginning bloodlines were in Beckah and Sullivan.  That is just amazing to me, Sullivan is now living with our youngest son and his family in Noblesville, Ind. And Beckah is due with babies around July 15th.  Toby will also be the father of these babies.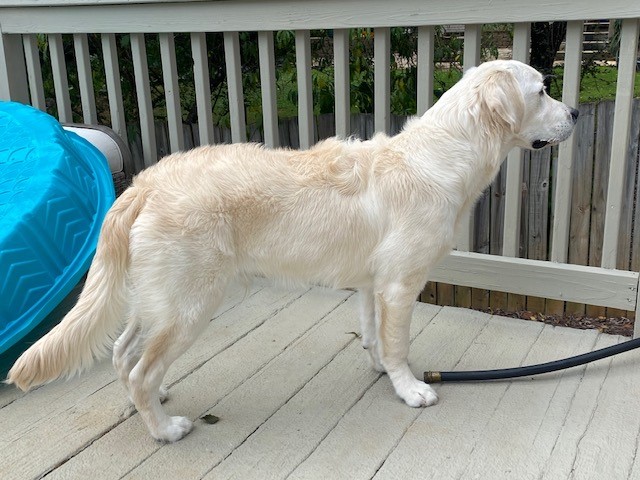 Mila'  (LET ME BE HAPPY FROM BABELSBERGI LAND) HUNGARY
AKC #SS37227701 DNA PROFILE #V10034576  DOB: 2/5/2022
Our magical, magnificent Mila'.    Mila' is a blend of lightning in a bottle and snugglers extraordinaire.  She is still very young and wants to do and find everything yesterday.  She also is the perfect golden that just wants to have her head in your lap or on your shoulder and stay there.   I don't let my girls have babies until they are two.  I love it when they are so curious because you know how smart they are.  She learns very quickly and of course is a mama's girl.  Mila' is also from Hungary from my friend Beata'.   Mila' is a perfect continuation of the beauty, temperament and health of all of my fur babies from Hungary.

"Cooper the Charming" – Dreamkeeper King of Hearts
For full pedigree information please follow this link to K9 Pedigree
Cooper is the "prince charming" of our goldens and has a very sociable and endearing nature. He has loads of substance and beautiful structure, excellent topline and super front and rear angles. He also has a heart of gold and a very loving and loyal temperament much like his parents. Cooper comes from a long, sterling line of International and World Champion golden retrievers. His grandfather is the stunning and famous "Ashbury Angel Heart" who has been crowned in many European countries for his outstanding beauty. On his mother's side Cooper has a strong Swedish influence with world-class goldens from Inassica and Cheers.
Cooper is a delight to have as part of our family and we have high hopes for his future here with us.
| | | | |
| --- | --- | --- | --- |
| Hips: Pennhip #897248 | Elbows: TBD | Heart: TBD | Eyes: TBD |

"Whimsical, Wispy Willow"  (Willow)  Willowcross Fantasy on Fire and Ice
Willow is as close to "lightning in a bottle" as any Golden that has ever owned us.
She is one of our very own girls, daughter of our handsome and oh so very debonair "Augustine of Bella Gold" (Augie) and her gorgeous mama "Wisteria's Promise of Hope". Willow hails from a long line of Champions on both sides.
Willows by their very definition are graceful, flexible, strong and beautiful. They tend to grow by the water. That pretty much describes our Willow. She is a sweet, sensitive, easy going and affectionate girl. As you can see, we sort of have our hands full getting a picture that we get both her head and her tail in at the same time.
Our Willow has a very bright and promising future at Willowcross. We are looking forward to watching her mature into a beautiful golden girl.
For full pedigree information please follow this link to K9data.com
"ISABELLA the Irrestible" (Izzy)  –  Willowcross Raspberry Ripple
Isabella (Izzy) is one of the crowning jewels of our family – our very own "Willowcross puppy". Izzy is co-owned with our son Michael and daughter- in -law Eleshia. Izzy comes from a long line of Champions both on her father and mothers side. On her fathers side, her grandfather is the Champion of Champions "Koriander ver de Beerse Hoeve" and on her mothers, the well known European Champion "Asbury Angel Heart". However Izzy is a champion in her own right. She exudes "peace". Isabella (Izzy) is perfection thru and thru, a very easy going and uncomplicated girl. Izzy just looks right thru you with those huge, loving brown eyes and makes a heart connection everytime.
For full Pedigree information please follow this link to K9data.com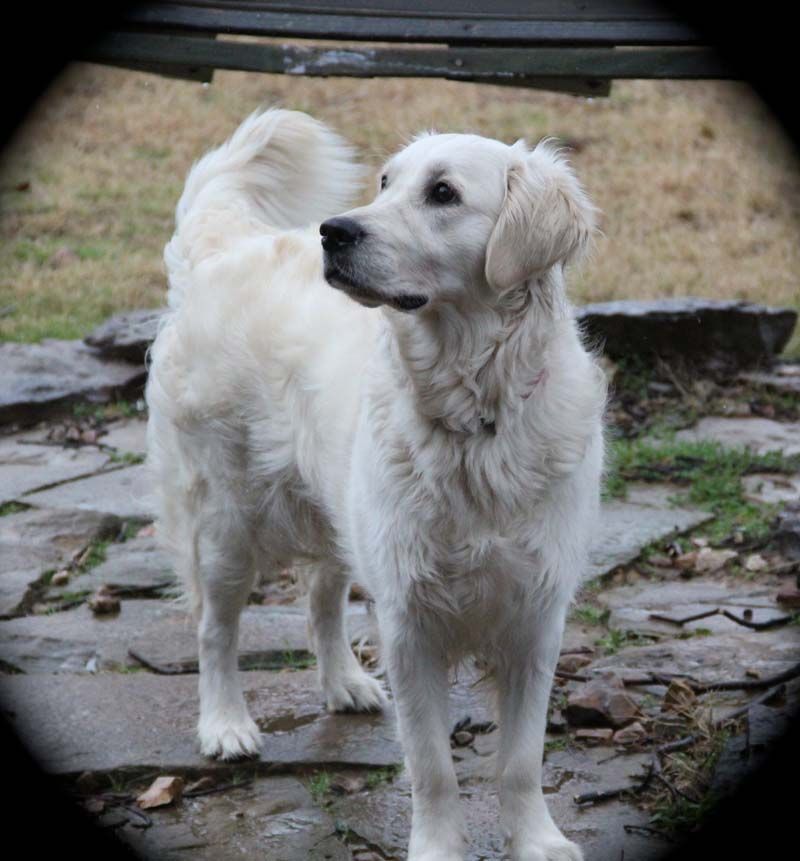 "One in a zillion Zoey" – Willowcross's Rhapsody in Blue
Our lovely girl Zoey is just exactly how I described her, one in a zillion. She is the perfect combination of her mama "Szava" Blue Dancin Girl of Golden Duck" and her daddy "Augie" Augustine of Bella Gold. Zoey hails from a long line of European Champions. A gorgeous combination of famous Champions in her lineage such as "Koriander van der Beerse Hoeve, Gunhills January Moonlight, Erinderry King of the Blues and many more.
Zoey is beautiful both inside and out. She has a heart that longs to please and a zest for life that is obvious. She has a wonderful topline and great angles. She personifies all that is precious about Goldens. She is a complete joy to have in our home.
Our Retired Goldens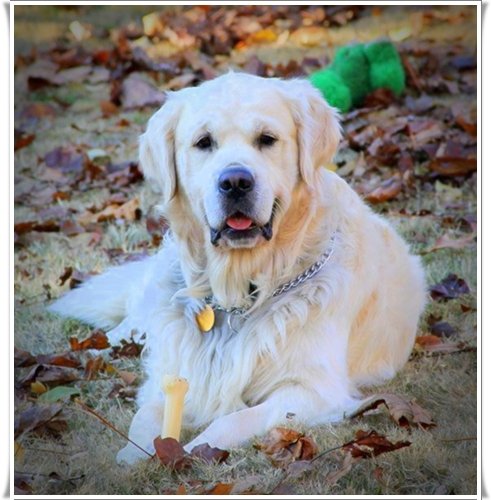 "Augie the Ambassador" – Augustine of Bella Gold
Augie is the cornerstone of our Willowcross family and a complete joy to love and own. He is an amazing ambassador for the breed and represents all of those wonderful golden traits that have made the breed so endearing to generations the world over. He has an extremely gentle and laid-back personality and a heart that longs to please. He is also extremely intelligent and has stunning good looks: a beautiful cream coat, a broad and masculine headpiece, wonderful topline and great angles. Augie's father is the beautiful Champion Koriander van de Beerse Hoeve and he comes from a long line of prize-winning goldens from the Netherlands and Finland with multiple European Show Winners included in his lineage.
| | | | |
| --- | --- | --- | --- |
| Hips:Penn Hip 70 | Elbows:normal | Heart: GR-CA18472/36M/P-NOPI | Eyes:Clear CERF GR-44621 |
"Bella the Beautiful" – Wisteria's Southern Bella
Our lovely girl Bella lives up to every ounce of her name and is a true beauty both inside and out. She has a delightful temperament and a very sweet and affectionate nature. She has a thick cream coat with wavy texture and lots of substance for a female. She is of course the apple of Augie's eye — and has an enamoring affect on everyone she meets. Bella has numerous champions in her pedigree from Norway, Sweden, Canada and Australia. She is great-granddaughter to the famous Blakesley Cromwell who holds an outstanding 59 titles and was winner of the prestigious Stenbury Trophy 4 years in a row.
| | | | |
| --- | --- | --- | --- |
| Hips: Penn Hip 80 | Elbows:Normal | Heart: Normal | Eyes: Clear |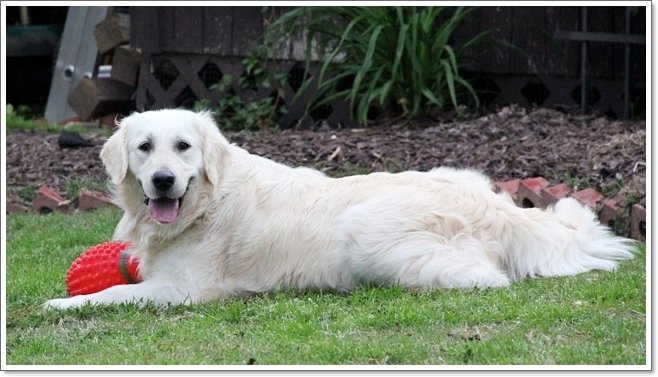 "Szava the Sweet One" – Blue Dancing Girl of Golden Duck
For full pedigree information please follow this link to K9 Pedigree
It is hard to find words that adequately describe the sweet, sweet spirit of our beautiful Szava. Szava has a very long history behind her journey to join us here at Willowcross — but the most important part of the story is that she is finally in that place where she truly belongs and has added something so very special to our lives. She is a gorgeous girl with loads of coat and super substance, a beautiful face with lovely, soft expression and she is poetry in motion on the move. Her outward beauty is only surpassed by her amazing temperament; gentle, affectionate and an unwavering will to please. Szava has a rich pedigree filled with well-known champions from the highly respected Erinderry and Gunhills kennels in Europe. We are so very blessed to have Sava as part of our family and look forward to her bright future here with us.
| | | | |
| --- | --- | --- | --- |
| Hips: B/B (FCI) HD free | Elbows: Normal | Heart: Normal | Eyes: Clear |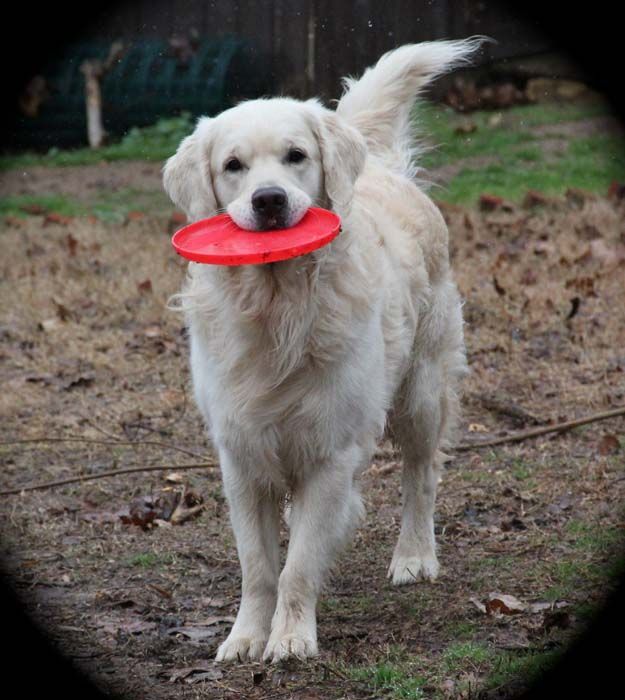 "Lewis the Loyal" – Bonett Bride Last Resort
Lewis is our beautiful boy that is full of beauty and fun. He absolutely loves to bring out the "fun" in everyone, from his four legged and his two legged family. He hails from royalty. He was born in Hungary, and is the son of "Mad About You de Ria Vela". Kyle, his father's call name, won BIS at Crufts in 2013. Lewis has a very laid back personality, except where his frisbee is concerned and lives to please. He has a lush coat and is a stunning boy. He seems to know what you want before you know and is a total and complete joy to have at Willowcross. I can't imagine Willowcross without the absolute joy this boy brings.
"Lovely Lily" – Wisteria's Promise of Hope
For full pedigree information please follow this link to K9 Pedigree
Throughout the ages the "lily flower" has been known as a symbol of purity and refined beauty. Just as her name suggests – our girl Lily is a beauty to behold and has the same regal and pristine appearance as the flower she is named after. Her inner beauty is an equal match; she is sensitive, sweet, easy-going and very affectionate. Lily can also be confident and bold when she needs to be and is usually never far from her adoring sidekick Cooper – off on an adventure or just enjoying life to the fullest. Lily comes from lines that include Norwegian and Finnish champions and her pedigree includes ancestors from the well-known European Kennels of Rossmix, Zenanas and Tottelina to name a few. LILY has matured into the bright and beautiful girl we had anticipated. She continues to have a wonderful future here at Willowcross. We are so blessed to have her in our family.
| | | | |
| --- | --- | --- | --- |
| Hips: Pennhip 90% | Elbows: Normal | Heart: Normal | Eyes: Clear |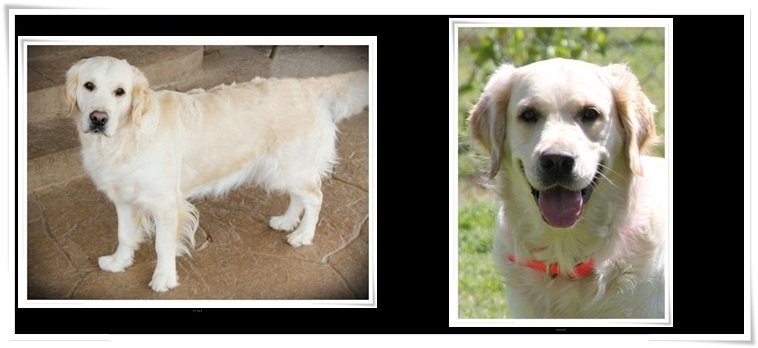 "Annie the Adorable" – Babelsbergi Just Desserts
For full pedigree information please follow this link to K9 Pedigree
Annie in perfect Golden fashion has a heart bigger than all outdoors. She doesn't want to be more than two steps away from you…..ever. Her name means "blessed with grace" and that describes her perfectly. She is sensitive, sweet, easy going with a temperament that is every bit that we look for here at Willowcross. Annie has numerous champions in her pedigree from Spain, Sweden, Hungary and Ireland. Her grandfather is the stunning and famous "Asbury Angel Heart" who has been crowned in many European countries for his outstanding beauty. Annie is a complete joy to have in our family and we look forward to her future here with us.
---
For full pedigree information…please follow this link to K9data.com
MORE PHOTOS of our golden family are AVAILABLE for viewing on our GALLERY page.
For more information please feel free to email us at nancyanneziegler@gmail.com