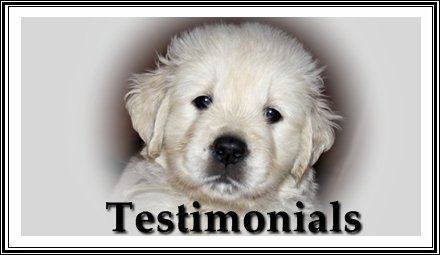 Below please find a sampling of the letters and feedback we have received from our Willowcross families.
Our number one priority is to ensure that each and every one of our puppies is a perfect fit for their new family, and that he/she will bring many years of companionship, love and laughter….and create memories that will last a lifetime….
I just wanted to tell you how much we are in love with our sweet Lily. She is so sweet and smart and such a great addition to our family. She is already out of her crate at night time and loves sleeping in her bed (which of course is right beside our bed". We started puppy training and she is the star of her class. She is such a velcro dog and follows us wherever we are. Our whole street loves her too and we have our neighbor (8 years old) who visits every day and she helps train her. I also have people stop me all the time commenting on how beautiful she is, which of course is so true. Anyway, enough of my rambling, but wanted to thank you again for allowing us to be part of the family!!
Nancy,
Banks is phenomenal. We are on our second level of training. I started at Petsmart but am hiring a trainer to come to the house. I am thinking about working towards training him to be a dog to visit hospitals, etc. His temperament is so wonderful and he is so gentle with kids-I could combine his awesomeness with my passion and maybe bring joy to some sick kiddos.
We went sledding quite a bit while we were in Aspen. There are a ton of stars there with their kids, always, and Banks became THE star amonst the actual stars! Mariah Carey who? Mr. Banks is here! There were a few other actresses there, I don't know their names but recognized them and boy were they loving on him. I was sure to let anyone who inquired….where we got him.
Hello!! Just wanted to let you know that I cannot say enough about Nancy and Bob!! They are incredible people, breeders and friends. Nancy takes this whole thing to another level. She cares so much. I fell in love with her waiting for the arrival of Jackson. Every week she sent us a Smilebox to give us an update of Jackson and his siblings. You feel as if you are a part of this puppy from the beginning. She's also a great knowledgeable source of information that you can always turn to. If she doesn't know the answer, she'll find it out. She is just an awesome person that I highly recommend!!! Everyone comments on how incredibly laid back Jackson is for a 14 week old puppy and how beautiful he is. He is so smart and was housebroken fairly quickly. Jackson is just a wonderful addition to our home. We know that whatever you decide to do, you cannot go wrong with Willowcross Goldens!!
Janice & Perry, Charleston, S.C.
From the very beginning when we first contacted Nancy on puppy availability, we knew we found the perfect breeder! Her expertise and knowledge of the English Style Golden Retriever was simply amazing. What sets her apart from other breeders that we had previously contacted is that very simply she didn't treat this as a business only. In fact, when the puppies were born, she had a place set up in her home so that everyone in the family could be involved. It was so obvious when the day finally came that we received our beloved O'Malley. His love of people came naturally and abundantly! If you have come to this website for possible puppy companionship, you need not look any further. Nancy and Bob's genuine love for the breed is quite apparent. They did an excellent job from the beginning to the delivery of O'Malley. Feel free to contact me at my email address: mtej@charter.net should you have any more questions.
The Tejcka Family, Oregon
Hi Everybody,
I wanted to introduce myself to you all as I am going to be "Miss Ruby's" mom. I am Carmen and I live in the Rocky Mountains of Colorado. Ruby will be living on property that backs up to a National Forest with a river across the road. I am sure she will be a delight to all the fly fishermen as they try to keep her away from their spot on the river. We are all connected now because of Nancy and her incredible puppies.( sorry, you too Bob)
She has done such a wonderful job raising the pups and keeping us informed about their progress. I can't even begin to thank her enough for all she has done. Willowcross Goldens will become a legend in the breeders world. I feel that you are all apart of my family now. I hope we can all keep in touch regarding our puppies, their personalities and what kind of adults they turn out to be. I would love to see photos of Ruby's brothers and sisters as they grow. And of course if any one wants to do a reunion in Colorado, I am game! I know Nancy wants to reserve a room at my house. Enjoy your puppies, and, I am sure you, as I, can hardly wait much longer.