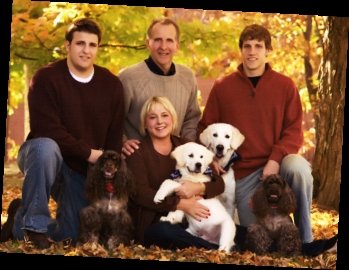 We are Bob and Nancy Ziegler. We've known each other since the eighth grade (and we're not telling you how long ago that was). Our entire life, before and during marriage we have had a passion about animals. You name them, we had them. Big birds (hawks) little birds (parakeets) dogs, cats, horses and a few hampsters. Then came the big life changer. Our oldest son got a Golden Retreiver and named her Bear. He took her with him to Jonesboro, Arkansas where he was living at the time. He had her for about a week and brought her back to us saying, "Will you keep her until I get a house?" We did, fell in love and haven't been the same since.
When Bear died at about 14 years of age, a part of our hearts went with her. She waited until the family was all around her, looked at us and collapsed. Our vet told us she had everyone she loved around her and knew it was okay to go ahead of us. It took us over two years to heal enough to start looking for another Golden. I started searching out Golden Retreivers. I called Veternerians to ask for their advice. I called ads in the paper and had some horrifying results. Finally I found one vet that referred me to a breeder, who referred me on to her mother. This is when I learned about English Creme Retreivers. The more I learned, the more I wanted to learn.
We got our Bella, Wisteria's Southern Bella in 2007. For those of you who have never had a Golden in your family, you probably won't understand this. There is an essence about a Golden that has to be felt as opposed to described. They seem to see right into your soul. In Goldens I have found my passion. We want to do all that we are able to improve the breed. We have searched and still are searching to find just the right Goldens to add to our family. To date we have Bella, Augie (Augustine of Bella Gold), beautiful Lily (Wisteria's Promise of Hope) and our precious boy Dreamkeeper King of Hearts, Cooper. We also have two of our homegrown girls. Szava x Augie's daughter "Zoey" Willowcross Rhapsody in Blue and "Willow" Willowcross Fantasy on Fire and Ice. Last but certainly not least is our "Lewis", Bonett Bride Last Resort. Isabella our beautiful girl from Augie and Annie is living separate from us with her family, our son and daughter in law, Michael and Eleshia. Our four legged family is family and will always be a part of our family…forever.
We have named our venture "Willowcross Goldens". Willows are graceful, peaceful, yet very strong trees. They like to grow near ponds, lakes or bodies of water. They grow very quickly. They have many of the same attributes of our Goldens. Cross, well, cross is pretty much self explanatory.
When I mention, "add to our family", that is exactly what I mean. Our dogs are family, they live with us, play with us, snuggle with us. We do not have outside kennels, although I know many very nice breeders do. That isn't what we want to do. Our goal is to raise, healthy, well adjusted, bright and beautiful goldens that will enhance your family as they have done ours.
Because we are very careful about who we breed and when we breed, if you want one of our puppies, you just might have to wait. If you choose to wait, you will not be disappointed.
We live in the beautiful Ozarks among lakes, mountains and lots of trails. Personal visits to meet our beautiful golden family are available by appointment.
Please enjoy our website. It is still under construction – but if you have any questions or comments you are welcome to contact us anytime.
Your comments, questions and inquiries are always welcome.
You can contact us by phone: (479) 278-2548
Cell Phone: (479) 409-0329
Or feel free to email us at nancyanneziegler@gmail.com